Beedeebabee aka Paulette is a kindred spirit that I met on ebay. Our common interests in the Victorian era, crazy quilting, embellishing, stitching, romantic period novels, & movies etc... brought us together. Paulette is an extraordinary artist! She puts more than 100% in all her creations.
This was a sweet gift I received from her. A detachable handmade and hand-painted angel floats above a beautiful hand-stitched pincushion.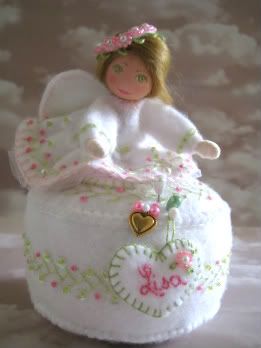 She hand-embroidered and embellished every little stitch, sequins, & bead you see.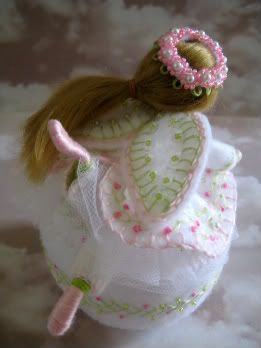 Every little detail is lovely! Even the angels wings, dress, pants, & shoes have delicate embroidery and dazzle.
A whimsical beaded halo sits atop her head & gorgeously hand-painted face.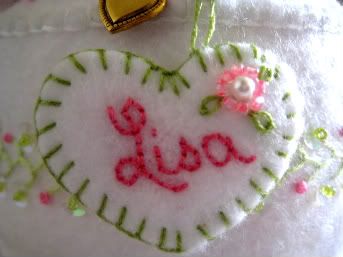 As a surprise, Paulette even stitched me up a tiny personalized heart tag! She's such a *S*W*E*E*T*H*E*A*R*T*!!!
The Kindred Spirit paintings I wrote about in my previous post are in her home now. Here they hang together in her work area.
She even added butterfly stickers to flutter around the Anne & Diana paintings.
Here are a couple of examples of her beautiful crazy quilts. Amazing creations and oh so Cute, Cute, Cute!!!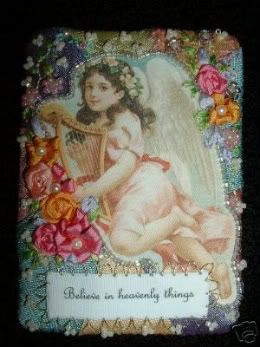 She has yet to create a blog (hint,hint),
but you can check out more goodies from
Paulette at
Beedeebabee's Etsy Shop
and also
Beedeebabee on ebay
.
Thanks for sharing your world with me Paulette! You always inspire me!
Love,
Lisa :)