Thank you so much Maria-Therese of
http://afiori.blogspot.com/
! I recently won her sweet
Hollywood Celebration Giveaway
. Some of her fabulous photographs, collages, & paintings are going to be in a movie. Yay! To celebrate, she hosted a lovely giveaway.
I was lucky to win a mixed paper soft cover notebook with a butterfly photograph taken by her and also a 5x5 print of her pink orchid photograph as well. I love them. I can't wait to use the notebook and to get her photo framed. Thanks again Maria-Therese!
You can find more similar goodies in her
Etsy shop
.
Thank you Micki of
http://thearthermit.blogspot.com/
for passing on the love with the "Byrum Spiritual Art Award"! Micki is currently hosting a couple of nice giveaways too. Don't forget to check it out! Her art creations and blog are fabulous!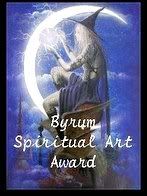 Thank you Anne of
http://gaalcreative.blogspot.com/
for passing on the "I Love Your Blog Dahling" Award! Anne creates fantastic cards and generously shares the steps & products she uses plus so much more. She also takes lovely photographs.
And finally...I'm going on a ROAD TRIP! Yay! I'm leaving the San Francisco Bay Area behind for just a few days and soaring out on the open road. I grew up on road trips and they are always something I look forward to. Be back soon! :)
Many, many thanks again to everyone for all your warm emails and sweet as can be comments! I really appreciate every single one of them!
Big Hugs,
Lisa :)