Kindred Spirit: a person who shares beliefs, attitudes, feelings; also called kindred souls
I received the most lovely surprise gift from my fellow kindred spirit Paulette aka
Beedeebabee
in the art world. A load of chocolate goodies and a super *S*P*E*C*I*A*L* ornament just for me!
Thank you soooo very much Paulette for this forever keepsake of mine! A fabulous ornie that will be happily displayed all year round. I'm so glad that our friendship has blossomed even before I painted Anne & Diana from one of our favorite stories, Anne of Green Gables. Hence, kindred spirits, for those of you familiar with L.M. Montgomery's novels. Kindred spirits are hard to come by, but when you find them, those friendships last forever.
With the whole excitement of receiving such a heartwarming present, I just snapped away with my camera. Here is the slideshow showing what I uncovered as I opened the box in utter delight.
As you can see, it is gorgeously detailed! I always marvel at her unique and intricate style. Eye candy that goes on and on! Completely hand-stitched and embellished with beads, sequins, and amazing ribbon embroidery. Yes, all hand embroidered! Centered in this masterpiece are the words that describe our friendship, "Kindred Spirits". Perfect as can be! Sweetly and oh so neatly put together!
A Million Thanks again Paulette!!! I love it! I feel so honored and blessed to receive such a beautiful gift.
Great Big Kindred Hugs,
Lisa :)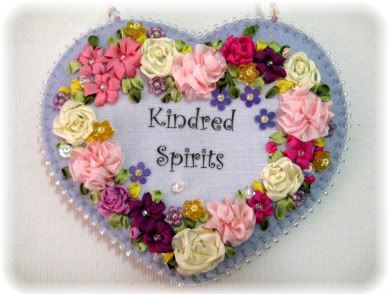 You can check out more beautiful works of Paulette at
Beedeebabee's Etsy Shop
where you will be sure to fall in love with her treasures like I always do. Her blog is still in the works... :)